Thin printing papers
Thin and opaque papers
The production of thin and opaque papers has always constituted the vocation of MCM. The average substance of our production does not reach 30 gr/sqm. Our paper is used by the most reputable printers and publishers in the five continents.
Our range of thin printing papers:
BIBLOPRINT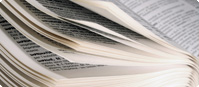 It is an ideal paper for the printing of dictionaries, religious books, catalogues, law books, etc...
SPECIALPRINT
Thin paper produced with a special whitening process which gives higher white perception.